We are constantly looking for new alternatives, new improvements, new products that can make the daily routine of our Merchants better, that can make them grow.
For that, we asked ourselves, what is the perfect product to help Merchants understand how their business is doing and can also give them enough insights on how to perform better?
After several Design and Usability studies, we have created a platform for every Merchant to control their Latin America operations in a simple, transparent and practical way, the EBANX Dashboard 2.0
Made to make Merchants' experience with EBANX easier and more efficient than ever, the EBANX Dashboard it's the evolution of our old Merchant Area. This 2.0 version comes with a new look, new functionalities, and a better usability.
To build the platform, we have collected more than 500 feedbacks about our previous platform and every opinion given made a difference in the construction process of this project. Inspired by the minimalism and the simplicity, all screens gained a new look, making the usage experience more soft, comfortable and intuitive.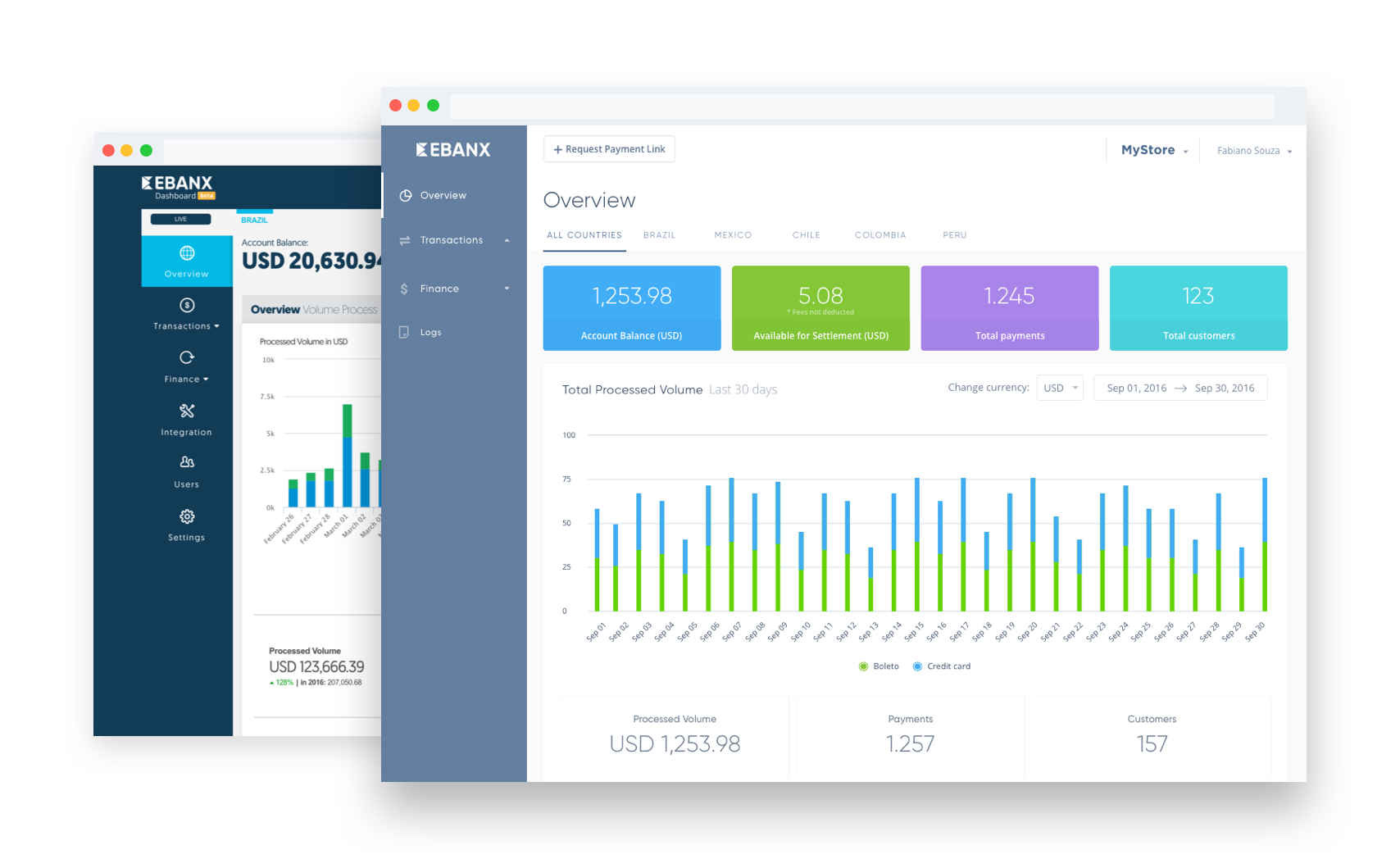 The old and the new EBANX Dashboard
Besides the improved user experience, the new EBANX Dashboard comes with new functionalities such as:
Request Payments from any page within navigation, just by clicking the + Create Payment Link button
Change the due date of all Cash Payments
Have an Overview of All Countries processing volume in one menu
View the Processing Volume in different currencies
Configure a specific Timezone to work with
Go from Sandbox Mode to Live mode just on a switch of a button, literally.
Check Logs of all Transactions
Along with the common tasks:
Request Settlements at any time
Locate any transaction such as Payments, Refunds or Chargebacks.
Check any Processing, Settlement or Transactions Volume on a chart, facilitating the experience and the understanding of your Business
Set any user for your Dashboard, with different permissions
Get your Integration Keys in a simple and easy way.
Want to know more about the new Dashboard? Sign up or Log into your account and check for yourself!
To guide you on your usage, download the Guide below and discover what have changed, what are the new features and more.
hbspt.cta.load(2112879, 'c23652c6-622f-4ce1-8e6b-b5ed1522472a', {});