Black Friday & Cyber Monday are coming, opening the way to the seasonal shopping in late November. Even as the hype cools in the U.S., Black Friday is still a frenzy in many other countries, such as Brazil improving economy. And in this post, you will find everything you need in order to set the perfect strategy for Black Friday Brazil 2018.
Despite dark political clouds and economic uncertainty, the country's expectations for Black Friday 2018 are pretty good. According to the report "Thank God It's Friday" by Google, this edition's sales might be about to increase by up to 16% compared to the same period last year in Brazil. In 2016, it yielded 2,1 billion Brazilian reais (around 500 million U.S. dollars) in e-sales to ecommerce.
Considering all these facts, it's safe to say that your international e-commerce can also take advantage from the Black Friday frenzy in Brazil, especially because 49% of Brazilians who already buy overseas increase their purchases on international websites during Black Friday, according to a global study made by Ipsos.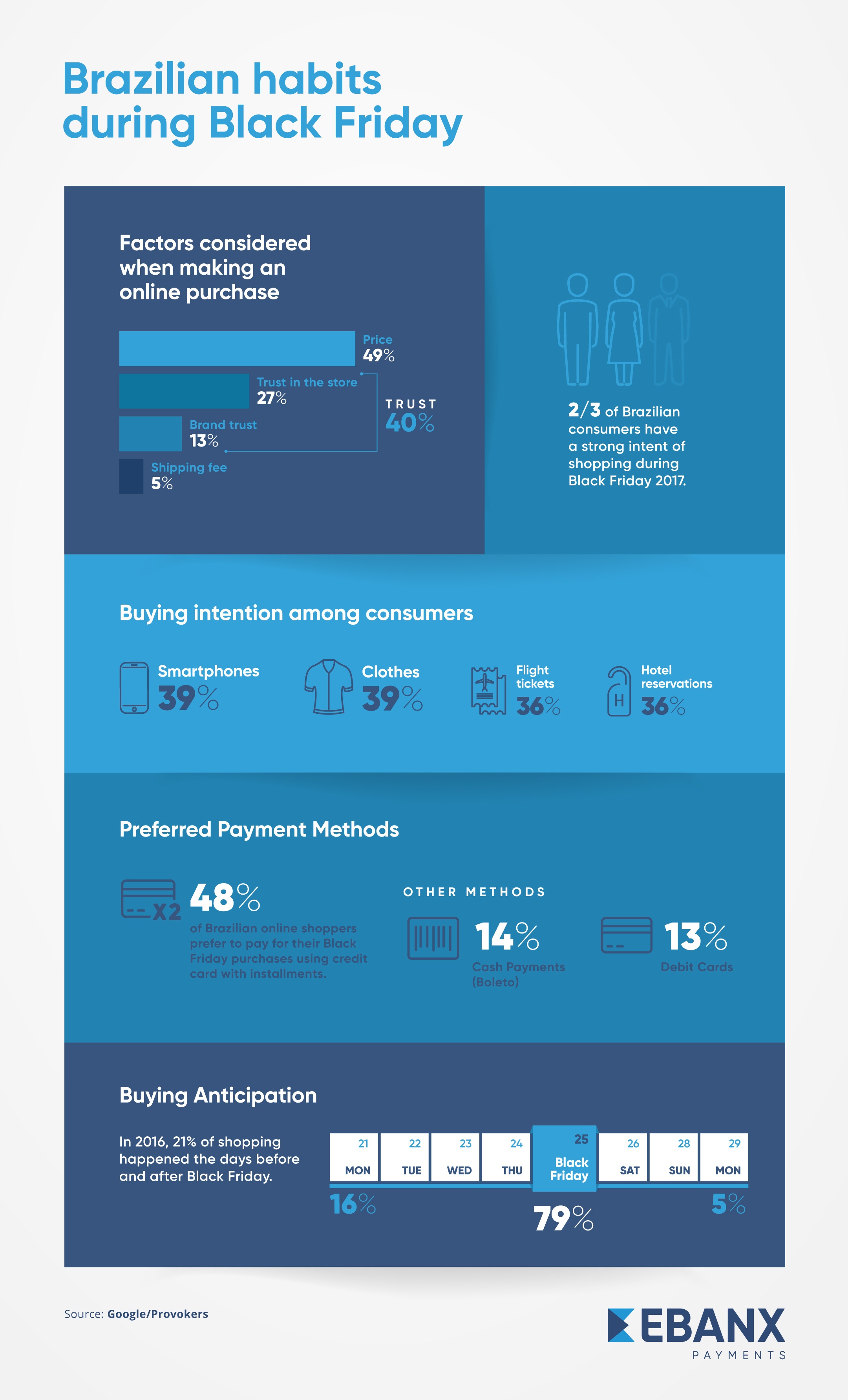 You may think you have plenty of time to start the preparations for Black Friday. But if you are thinking about selling overseas during the occasion, in particular to Brazil, you've wasted time if you have not yet started.
At the risk of sounding like a broken record, let me remind you: a positive Black Friday outcome depends directly on how you plan it. That's why I've gathered these surefire essential strategies for you to rock Black Friday Brazil in 2018.
Best Black Friday Brazil 2018 Strategies
The first thing to a good planning is to know your public. Have in mind that Black Friday in Brazil differs a bit from the one in the U.S. This means you have to adapt your strategy if you want to sell more to this Latin American country during this period.
For instance, while in the U.S. the event happens only the day after Thanksgiving, being followed by Cyber Monday, in Brazil it's somewhat different. Retailers usually jump the gun and start their Black Friday discounts before the actual day. Also, e-stores can postpone its end, turning the date into a real "Black Week". Because of that, the days before and after Black Friday also experience an increase in sales (as seen on the infographic above). 
Another critical point in Black Friday is related to the consumers' trust in Brazilian retailers. That comes from a history of Black Friday fails, such as order cancellation, stock depletion, or even "disguised" discounts. All of this makes Brazilians consumers conduct exhausting online researches before buying any product — especially during Black Friday — taking into account aspects like brand credibility and website security before making any purchase.
How well you manage your stocks affects directly your sales' success and profitability. That said, you need to make sure that your business is prepared for this important period of the year, managing fulfillment and ensuring that you have enough products to meet both local and international demands.
The first step is to set an inventory based on your market research so you can understand which product can or cannot be replenished and plan ahead your logistics, such as warehouses setting, purchasing of extra items and contact with the suppliers.
Keep in mind that discounts can attract more people than you expected and even with all this preparation, you can run out of the product. And, if you do, you will need a strategy in order not to disappoint and leave your customers in the lurch. Think about making social media announcements to spread the word about a sold-out item, or even offering a substitute product so you don't lose this client for good.
Selling overseas usually is much more tricky than doing business at home, especially when it comes to shipping. Delivering products to Brazil involves a complex system that includes security, agility, capacity and particular legal issues.
To add to this, what some of the points international customers care the most about making a purchase decision is fast delivery and a good return policy. You can see why logistics deserves special attention, especially when you need to send your freight across the world, being even more critical during Black Friday.
Beware of delivering time
If you're selling products intended as gifts, especially for Christmas, you will need to focus on fast shipping so the products arrive in time at your customer's home. But keep in mind that it normally takes 3 weeks for a product to arrive in Brazil from the U.S., and when the goods are coming from China, the average time for delivery rises to 45 days, so don't make promises you can't keep.
Choose the right shipping method
Consider all your shipping options and make sure you've chosen the right mode of international transportation to use for shipments, by sea is the most common option, and think about your budget and timeline so you or your customer won't have any surprises. Another crucial point when choosing your shipping method is considering Supply Chain Visibility (SCV), which basically means having control over the location of goods that are in transit from your store to your customer's address. This is a very important thing since you will need to be able to provide this info to your customer at any time.
Use Flat Rates to Increase Upsells
According to Diego Sampaio, business developer at Company Combo, specialized in helping foreign companies who want to do business in the U.S., offering flat-rate pricing for shipping can be a good strategy to motivate upsells. Nothing drives people to pile more items into their shopping cart more than telling them it won't elevate their shipping rates. If you choose to offer this service, spread the word all over your website to eliminate any doubts about shipping and to motivate shoppers to buy more.
Hire third-party help
Sounds like quite a handful, right? Organizing your Black Friday Brazil will demand a lot of time before, during and after it. Hence, if you don't have a large team, it is highly recommended to strategically outsource fulfillment services during the period. These third-party logistics providers can help you get through this troubled time with an intact reputation and satisfied customers.
4. test your website stability
At this point, you might have already chosen the products you will offer and started planning on how you sell them during Black Friday Brazil 2018. But neither the best market or the most well-thought logistics will be worth it if you don't ensure your website is running as expected and that it's prepared for the crazy traffic Black Friday Brazil will bring to your store.
You don't want your businesses to run into unplanned downtime, right?
User Experience
It's equally important to consider the user experience of your website. Customers expect pages to load fast and will exit your website at the slightest sign of delay. Another tip is to make sure there are no pages blocking the way to the final act when customers click to buy an article. Make them go straight to the shopping cart to effectuate their purchase!
Think Mobile
According to Ebit, about 20% of Black Friday shopping in Brazil was made by mobile devices. Since you are already checking your website, take the time to test its mobile performance, a crucial point to increase your sales in Brazil or any other place.
And don't forget about setting up a Portuguese version of the website to please your Brazilian customers.
5. Give strategic discounts
To many people, Black Friday is the ultimate opportunity to buy a long-desired item for a more affordable price. And they finally do it after a lot of online research. Therefore, this is the time to offer the best discounts you can in order to catch these customers! Think about offering interesting deals on exclusive items that are hard to find in Brazil to increase your reach among Brazilian customers.
What Kind of Discounts?
Regarding what discounts you should offer, there are some options that work better than others with Brazilians. A very common discount is the one offered in payments made only with boleto — according to the Google research, they're the most attractive kind of discount for 34% of the Brazilian consumers. This can be operationalized directly in the checkout, as the consumer chooses the payment method. Another option is to offer special vouchers to your international customers. Think about a catch-phrase and spread the word about the voucher.
Show It to the Right People
Your store probably doesn't sell exclusively to Brazil, so how will you reach Brazilian Customers and show your discounts directly to them? There are some tools for your website that allow you to target campaigns based on the geographic location of your visitors, like Geolify or Optin Monster's Geo Location Add-ons. These tools use the visitor's IP address to identify where they come from and show them the right advertising banner. By using this on your website, you can create an exclusive banner in Portuguese offering boleto discounts to your Brazilians shoppers, for instance.
6. share like you mean it
In addition to make awesome promotions and discounts, you need to ensure they are easily trackable by your customers. Here's how to do it:
Send Newsletters
If you already have a good international mailing, send your clients newsletters telling them all about your best Black Friday offers. Do it on a regular basis, starting one month before and heating things up the week before Black Friday so you can increase their expectations. Consider offering them some exclusive inside tips or the discounts you're planning to offer.
During the actual Black Friday day (or days, if you go along with the Brazilian tendency to keep the date going), send an email as soon as the clock strikes midnight and keep feeding them offers during the day, as a constant reminder that Black Friday is not over.
Use Social Media
Publish the details of your top offers on Social Media platforms and create social campaigns to generate buzz. Try to engage with your international clients by publishing this content in their own language. Don't forget to boost your posts with the help of advertising tools, such as Facebook Ads, always using local segmentation in order to reach the right public.
You can also create some display campaigns with Google Adwords with local segmentation to increase your website's reach even more and send the desired audience to your website.
7. offer awesome customer support
Black Friday always means extra caution with customer support, but when it comes to selling internationally, you can't be careful enough. There's a higher demand than usual, technical issues can occur, products can be sent wrong, packages can delay.. Summing it up, you need to keep your eyes peeled for any problem you may face, especially when it comes to your customers' problems.
List possible questions
Be prepared to receive a much greater number of customers asking for your help and to handle them properly. Think ahead of what problems they may face when using your website, what crisis situations to expect, and list the possible questions customers can pose and its respective answers; this will help you later when you will be hit by a lot of customers' requests. 
You can also optimize your website for this matter, setting up banners with some information about the big date and some guidelines for the customer to have the best user experience as possible.
Prepare your team
Grant your staff time so they are ready and prepared for this big day, responses must be effective and they need to come quick!  Make sure all bases are covered, like email, social media, phones, or any other customer communication channel, and think about offering support in Portuguese for your Brazilian consumers.
Don't forget about after-sale services
Problems will occur, you can't run from them. As mentioned, shipping abroad is complicated and there's a huge probability of delivery delay. Remember to always keep your customer updated about the whereabouts of its products and be prepared to deal with undelivered packages and products sent wrong. Be patient and, most importantly, transparent with your customer.
Shipping problems aside, Black Friday is a great opportunity to retain customers. Consider offering them a small bonus gift on the checkout page and sending them a special Black Friday thank you message after the purchase. Another idea is to offer a discount voucher valid for their next purchase.
8. offer local payment methods
As mentioned before, many Brazilians wait for Black Friday to buy something high-valued that they have been craving for some time, but often they just don't have the total amount available in their bank accounts yet.
As a consequence, 48% of Brazilian online shoppers prefer to pay for their Black Friday purchases using their credit cards with installments option, or parcelamento, according to the Google Research (see the infographic).
However, there's a little problem there. That's because only 19% of Brazilians own credit cards enabled to international purchases, the rest of them rely entirely on local payment methods, such as local credit and debit cards and boleto bancário. Can you see how much market share you are losing?
To revert this situation, you need a local partner, such as EBANX, to help process all of these local payment methods, which will allow you to reach the totality of Brazilian online shoppers and not only that but incredibly increase your conversions rate in Brazil.  
I hope these strategies will help you in your Black Friday Brazil quest. These are just some guidelines for this big e-commerce date, but there is plenty more that we can share with you about doing business with Brazil and other Latin American countries, so stay tuned for our blog updates.