Ecommerce has surpassed everyone's expectations. There are multiple entrepreneurs that have created multi-million-dollar businesses based on the ecommerce model. They create, they market, and they deliver. Finally, they become viral and grow into a billion-dollar brand and disrupt the incumbent giants.
Ecommerce has evolved significantly over the years, including business models and overall logistics, while maintaining mastery over the consumers' minds. Whilst there are multiple classifications under ecommerce, such as B2B, B2C, C2C, G2B, etc.
Most businesses have a single unique business model under which they flourish. Many ecommerce channels have pursued the B2B business model, and have flourished via high quality service and providing value.
E-BOOK
The top consumer holidays in Latin America
Digital has changed everything in the ecommerce game, and has allowed ecommerce to become a 2 trillion-dollars industry within a few years of existence. With large and small players, ecommerce is certainly a space that's heating up and understanding ecommerce business models is a challenge that every entrepreneur must overcome to increase sales.
With that in mind, we've listed some of the most successful ecommerce business models.
Drop-shipping
Drop-shipping evolved from the idea of affiliate links/affiliate marketing, where an intermediary (with a sizeable audience) would charge a commission to promote a product or service to their audiences.
Entrepreneurs later found it simpler to push orders directly to manufacturers and let them handle fulfillment. This saves a lot of money and time, and it helps the ecommerce channel to focus all its efforts in branding, marketing and audience development.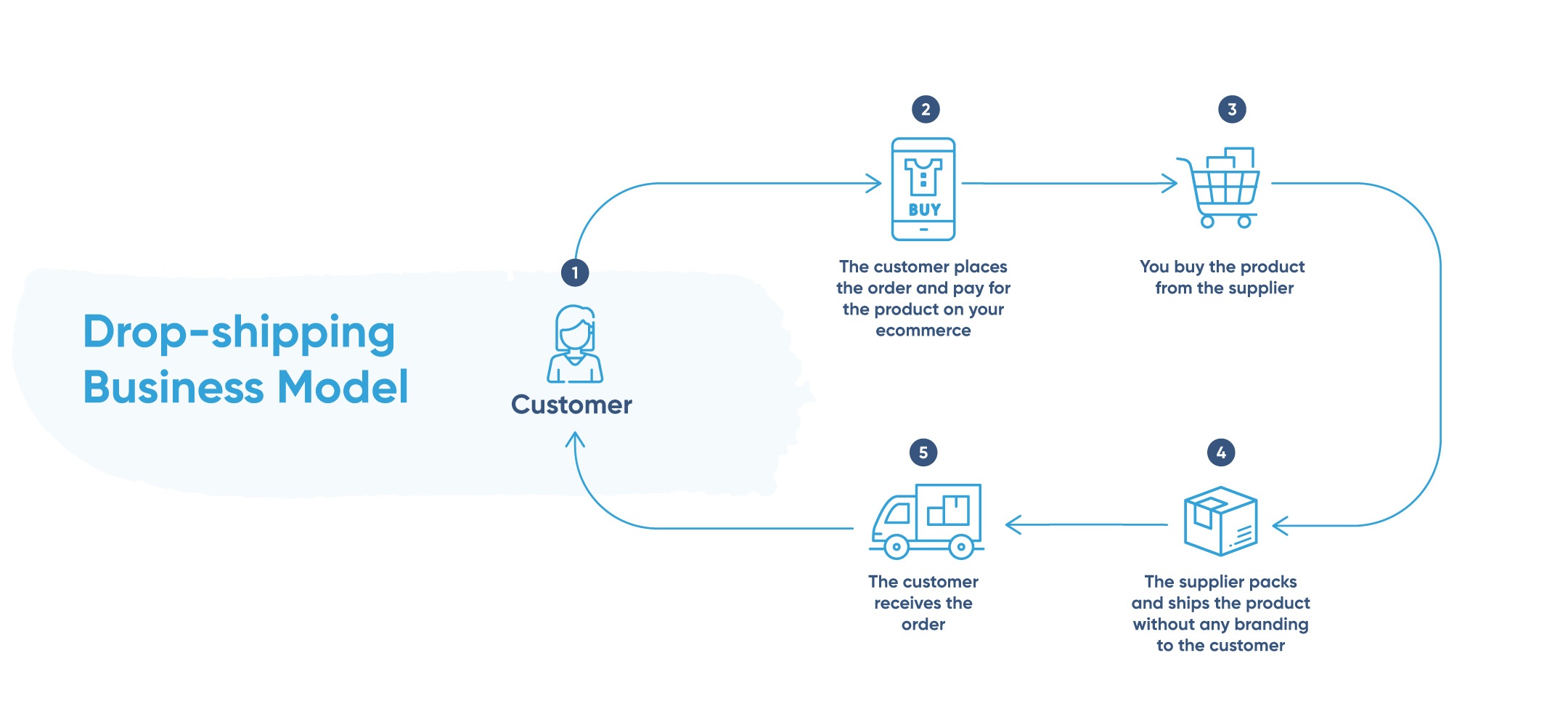 This type of ecommerce model is common for entrepreneurs that want to sell "viral" or "trending" products and it allows them to increase their margins by not creating unnecessary costs or bottlenecks. Most fulfillment houses can be found around the world, and they are highly reliable to fulfil orders within weeks.
Entrepreneurs need to be careful and understand that there is a risk involved in this business model, where complicated (and often brand-breaking) situations can occur – returns, faulty packaging, missing items, etc.
They need to vet the fulfilment centers completely before they make the final call, and they need to ensure that there are no logistical problems arising from the lack of resources.
Certain times, drop-shipping may require upfront costs, logistics and customer service, as well as legal issues arising from third-party vendors. Entrepreneurs starting out need to be aware of that early on before they reach a point of no return.
Wholesale & Merchandising
An example of this would be Jet.com which provides a membership based wholesale experience to its members across the US. W&M involves a simple transaction system. When a customer goes to a W&M ecommerce website, they expect to enter the site to buy wholesale priced goods from various brands.
This could be a niche-focused approach, like shoes or clothes, or more general, like daily groceries or medicines. Many entrepreneurs have seen success in this business model, as it only involves successful negotiations and transactions between business, and the customers receive all the benefits obtained from low marketing costs and brand-related expenses.

The best part about W&M ecommerce business models is that they don't require upfront costs. You can directly work with the suppliers and keep the stock updated on your website.
No physical storage, warehousing or retail strategy needed and once the concept is a success for you – you can charge for virtual shelf space and let brands compete on your website.
Entrepreneurs are excited about the wholesale and merchandising space precisely because of the opportunities that arise from the growth of the industry.
You can drive sales at a rapid pace if you can provide a cheaper and higher quality option for a certain product, or you can even provide bundled shipping for larger quantities and give customers a deeper discount so that they would return frequently.
The downsides of this business model arise from the need for particular products and services. Let's say you are a marketplace offering the cheapest "lab equipment" for chemical traders, then nothing is stopping these traders to directly buy the best equipment from the brands themselves, thereby bypassing you completely.
Therefore, you must make the experience of purchasing a product from your website so seamless and customer-friendly, that they have no option but to give you their money.
Branded/PL products
This is an extension of the retail model, where brands would develop brand awareness at scale and drive traffic to their websites directly. This involves a lot of costs associated with merchandise, marketing, audience development, logistics, etc. but has the most amount of control over all inventory.
Most entrepreneurs staring out opt for this model simply because they want to create a brand of their own. Something that is long-lasting and has a stronger reach than the incumbents. It is because of this desire to build a brand from scratch that they forget about the economics behind building it at scale.

Apart from upfront investment and consumer research, the actual product needs to be at par with the industry. You can't sell bad quality speakers and put your private label on it, and expect it to pick up quickly. You must differentiate yourself in the marketplace (both B2B and B2C).
One of the benefits of this industry business model is that because there needs to be complete focus on the brand from order to fulfillment, the quality received is much higher. Every product is vetted in-house or under trusted partners and hence the final output is something that is of higher quality and stronger desire.
You can drop ship, or wholesale your products, but customers love the "brand philosophy| and "the halo effect" takes over when a certain brand is outperforming others. The competition is also lower, as building a brand takes a lot of effort and money.
Also the time taken to resolve customer issues, refunds, policies, legalities, etc. is also lesser compared to other models, simply because there are hundreds of brands in the world right now.
White labeled product/service
This is an older idea but a common one these days, especially in the software and production industry. The concept is simple.
If you can find a product or service that has proven demand in one area or corner of the world, then you can white label it, in other words brand it yourself, and sell it in another part of the world.

For instance, if a company makes an online photo-editing software, then you can create an ecommerce website under your brand name and sell that photo editing software.
You can effectively create massive scale in a short period of time if you get your targeting and pricing right. You can add immense value via arbitrage or even customer service and sales. Many alcohol and lifestyle brands white label off smaller manufacturers when they introduce a new line of their products.
Since their own brand has immense value, customers will buy the new line of goods instantly. That's what happens when you create a great brand or build one from scratch (like the branded/PL model) but you don't take any R&D, product development or sometimes even fulfillment costs.
The downsides and benefits are complex, but it comes down to how well you know a community/market. For instance, if you are an expert in building office furniture, and you notice that you can also introduce ergonomic back rollers that relive back-pain, you can effectively white label an existing manufacturer's innovation under your brand and leverage your existing connections in the industry.
The cons of the WL product/service model are the lack of innovation and product development that goes into keeping the technology or product up to the mark.
Many times, companies try to white label products that simply aren't as good as ones that are already available. Thus, this ecommerce model needs to be implemented when the entrepreneur has a thorough reach and understanding in the niche/market that he wants to target.
Subscription/Boxed Delivery model
One of the newer innovations in the ecommerce business model space is the sub-box model. Via this ecommerce business model, a customer subscribes to a monthly package (Naturebox, Lootcrate, BlueApron, etc) and receives a recurring benefit that he pays for.
Many SaaS companies have been following this model for years now, including Adobe, Microsoft and Google, and now its entering the product space as well. It first became popular with the viral sensation – "Dollar Shave Club" that promised a shaving razor for $1 a month and it began a journey to a platform-based change in how people do business via ecommerce.
Nowadays, there are tens of hundreds of these subscription/box delivery models and they attract customers from all corners of the world.

Customers can even pick from various categories of subscriptions (premium, gold, diamond, etc) and with different tiers being offered, customers have a larger variety of options to choose from.
Some of the downsides of this ecommerce business model arise from the combination of passion and payment. For example, if you are a sub-box ecommerce brand that provides games merchandise every month, then only really passionate gamers will buy-into the subscription model.
If you are selling gourmet food in a subscription box, then the customers ordering it monthly will consist of those who are passionate about food. As the relationship has to be continual in nature, subscription models can become increasingly expensive and difficult to manage through the brand's lifecycle.