A fundamental stage for online retail businesses: delivery services must be well chosen. Shipping options should be carefully analyzed – not only in pricing – but in all their characteristics, to ensure you are providing a satisfactory experience for your customers, on every aspect. No doubt that FEDEX and UPS are the top of mind companies when it comes to deliverying products.
But which of them should you choose?
Delivery services are probably the only physical interaction you are having with your customers along the purchasing process.
Many ecommerces already use same-day or guaranteed time delivery as a differential in their services, and to be able to do so, it is important to have a trustworthy shipping partnership.
In the United States, UPS and FEDEX are the major players in the shipping industry and the favorite carriers among the ecommerce businesses. Together, they control more than 80% of the package delivery market in the Country.
A general fact sheet about them: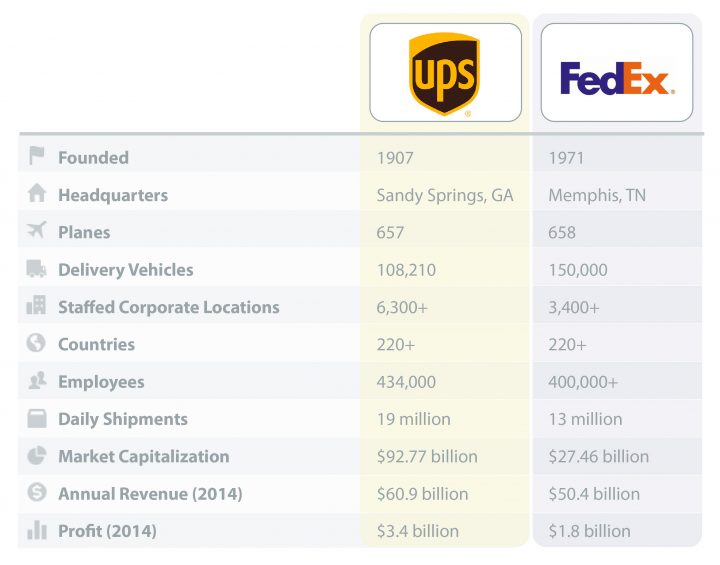 Source: Capterra
As you can see, numbers are pretty impressive at both sides and it can be hard to take a conclusive decision about it. Each company has its strengths and its weaknesses, but it is clear how they are trying to offer better services and to stay competitive for the eCommerce market.
So let us try to help you in this challenge on choosing the best carrier for your needs.
Convenience
UPS is rock-solid and leads the market in terms of reliability, as it has a longer story (the company was founded in 1907), consequently more experience in the business. It is also definitely easier to bump into a UPS location, as they count with over 5,000 stores, 39,000 drop boxes and 27,500 access point locations, making it the largest package delivery company around the globe.
The company also presents more pick up options than any other, having their presence inside local businesses, which is a convenient advantage for consumers that cannot wait for their package at home and want to have more security in the delivery process.
If we think about shipping times, UPS provides next business day shipment with first available flight for 8:00 a.m., 10:30 a.m., or noon next day for the U.S.. They have a 2 business days all-day delivery and, for longer distances, a 3 and 4 business days delivery options.
Even though FEDEX is younger (it started in the 70's) and does not achieve to have as many locations as UPS, it still holds more than 50,000 spots in the world, which is not a bad number at all. However, FEDEX is specially known for innovation. For instance, next-day delivery was the leverage that introduced the company into the market. And more recently, FEDEX has improved its package sort system and now is able to categorize different deliveries with common destination earlier, reducing costs and increasing productivity in the shipping process.
FedEx shipping times are 8:30 a.m., 10:30 a.m., and 3:00 p.m., for one-day deliveries. It offers 2 and 3 business days delivery at 4:30 p.m. as well. For economy rates, 1 up to 5 business days delivery, depending on destination.
Both companies have a weight limit of 150 pounds per package, and both offers pickup services in case you prefer to send it directly from your shop, but FedEx schedules for only 4$ and it has even some free charges options.
Therefore, when only thinking about this specific argument, the convenience, you could simply check and take the one that better serves your area and the delivery times that would better fit your business needs.
Pricing
Pricing can be a sensitive factor for business and buyers. To provide more advantageous rates to eCommerces, the most recent investments of UPS and FedEx are focusing on reducing the costs with the last-mile part of the deliveries, using bicycles for example. However, the difference of prices between the two is usually irrelevant, especially for domestic deliveries.
For a first evaluation of the costs, you can get the updated rates and zone charts from these companies and use websites tools to compare the services and rates, such as Shipgooder, Shipwire and Shipping Sidekick.
But in order to guarantee the best deals and discounts, we suggest you to speak directly with the representatives of these companies, and try to work always close to them, in a true partnership.
FEDEX and UPS costs change according to the type of service, location, and demands your business have.
Special Services for eCommerces
Couriers know online businesses have an important participation in their revenue, and they are aware it is a number that is likely to raise every year. So in order to facilitate the understanding and attract more online businesses, they offer some specific solutions for eCommerces that can help managing this part of the process.
Starting with FEDEX, there is a web service tool that can be added in business platforms to help to manage the order and track the deliveries, the FEDEX Ship Manager. It includes packaging, electronic or printed labels for customers that want to return the products, and even special treatments for perishable products (food, wine).
To facilitate returns, a frequent issue for ecommerces, UPS can ship a pre-printed return label and integrate this process to the ecommerce website. The company also has extra services of up-to-date status and delivery intercept in case there is a mistake with the order, all subject to payment, but that definitely are a value-added service.
UPS and FEDEX offer vast and personalized services for companies and an efficient help center with specialists to address specific situations and help with solutions.
International shipping
Both companies offer different kinds of services for international shipment.
UPS offers five different international services:
Worldwide express plus: 1 to 3 business days, with delivery by 8:30 or 9:00 a.m.;
Worldwide express: 1 to 3 business days, with delivery by 10:30 or 12:00 noon;
Worldwide saver: 1 to 3 business days, by the end of day;
Worldwide expedited: 2 to 5 business days, by the end of day;
Standard: 2 to 8 business days, by end of day.
FEDEX gives four services:
International Priority: 1 to 3 business days, with delivery by 10:30 a.m. or 12:00 noon;
International Economy: 2 to 5 business days, delivery by the end of day;
International MailService: 4 to 7 days (premium), or 7 to 11 days (standard);
International Ground: 2 to 7 business days
Here we can also highlight FedEx last-year acquisition, the Dutch TNT Express, which had a striking presence in Europe and that increases the potential of FedEx in this continent.
Customers Evaluations
In the matter of customer's satisfaction, we can see UPS gets slightly ahead in the evaluations, reviews and loyalty engagement. The "brown", how it is also called, is the brand that inspires more reliability in the market. However, FedEx does not stand far behind and also gets good rates having over 90% for on time deliveries.
Conclusion
As you can see, the "winner" of this contest also depends on your business peculiarities and exigencies.
Hopefully this information will give sufficient basis to choose the best courier for your needs and to optimize your shipping operations, increasing revenue and even better, your customers happiness.
If you want to know more about product delivery, I strongly advise you to read this article on 
hbspt.cta.load(2112879, '18b3730d-f563-4c72-9651-89d1bef132fa', {}); , with 8 strategies for you to save money and time. Also, we have prepared a very informative content on the ecommerce status in Latin America, check it out just in case you're thinking about expanding your business to increase sales: