The customer journey has completely changed over the past years. With the internet and its related technologies, communication channels have largely multiplied and transformed the way people buy and connect with brands. In this sense, multichannel marketing emerges to determine the routes to go along with potential buyers and better attend their needs.
Before entering into its characteristics and methods, we give you an example that will help you to understand why your ecommerce should go multichannel:
The suitcase saga
Let's imagine your lifelong favorite suitcase has recently broken in your last business trip and there is nothing you can do about it: the wheels are bent, the zippers are stuck, the handle is missing. It comes the time to say goodbye to it. Besides mourning for what happened, you realize you have few time to look for a new one before the next trip, but you have no idea what to buy, and the suitcase you used to have is no longer manufactured.
What would you do?
I dare to say your first move would be going online to check the options. The search engine shows you models and stores where you can buy it, so you click on a online retail store and start evaluating the bags, scrolling down the page in your phone. The more you navigate, the more you get overwhelmed. You could not imagine how many formats, material and colors a bag could have these days! For your surprise, you even find a suitcase people can ride.
Really?
You establish some preferences: a business model, black or grey, with a safe locker, no riding. Hard or soft shell? You ask your friends about their opinion and they indicate two or three brands they like. Check the reviews. Now you have a clearer idea of what you want. Later that week an advertising pops up in social media. You send a message to the company to clarify a information about a specific model and read a travel blog that gives tips about suitcases. It comes down to two options.
The finishing blow comes via email: a discount coupon for your first purchase in one of the finalist companies website. It is your lucky day. You call them to be sure that they can delivery on time, and yes, you finally have a new suitcase.
The tortuous path to purchase
The suitcase saga tries to illustrate how complex a purchase decision has become, with the consumers taking control over the buying process due to the proliferation of channels they can easily access.
Aware of this fact and market competition, companies have to do their best to be present where customers are, in an effective way, because the online world is also crowded of all kind of information and diversion.
For this reason we have the multichannel marketing, a strategy that helps to define and implement the communication channels to interact with customers within all stages of the purchase process.
It is all about being actively where your public is and giving them the possibility of buying from you the way they prefer.
If you are still unsure about this strategy, we can give you some more reasons to think better about it:
The main benefits of multichannel marketing
When properly applied, multichannel marketing boosts the brand presence online, offering a much richer experience for your public;
Improve the response rates of your target;
Increase sales. Multichannel customers spend three to four times more than single-channel customers;
Allows you to tailor marketing campaigns according to the targets characteristics.
Channels where consumers saw the product before purchasing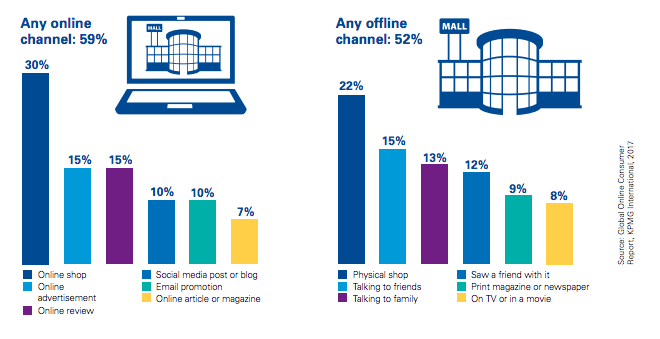 Source: KPMG
You do not need to use all available channels in the world to have a successful multichannel strategy. Instead, you have to choose wisely the most efficient ones for your business and make them work synchronized.
Which channels are the best for you ecommerce
The channels you will choose depend on your ecommerce internal and external factors:
Internal Factors
To put a multichannel marketing into action is not that simple, and you will need to get prepared to provide a satisfactory experience for your customers. Additional channels demand expertise, technology, and a well-instructed team to work properly. And of course, you will probably spend some money on it. So the first step is to check your current channels, their internal strengths and weaknesses, the available budget and resources, and if necessary, fill those gaps before launching a new channel.
External Factors
Your customers must be the central part for this decision, so it is necessary to deeply understand their behavior and find out in which channels they normally go through when buying online. You can collect the data from online tools like Google Analytics, but also do a research about the buying peculiarities in different regions, especially if you are selling outside the United States.
Competition is another factor to take into account, because more than being multichannel, you have to stand out from the other companies and internet distractions, being innovative to interact with your public and make them engaging with you.
Finally, you should consider the customers in all purchasing stages, not only for the conversion and the act of buying, but from when they first desire the product till the after-shopping experience.
7 multichannel marketing strategies
#1 Define your typical customer journey
The journey can vary depending on the industry, category and type of brand you have. It can be very simple or extremely complex, and can also be more than one journey if you have different types of public. No matter how it is, but all following multichannel marketing strategies should be developed according to this first information.
#2 Personalize customer experiences
Data management can also help you to integrate all different channels, maintaining a single view of the customer and responding with individualized services. It is important to respect your public preferences and transactional history, like currency and payment methods. Shopping with you should not be a challenge for a standard buyer.
#3 Automate your multichannel campaigns
This way it will be easier to track the results and repeat a successful strategy in the future.
#4 Consolidate your brand's digital presence
Improve your website continuously, studying the variables that will maximize the outcome for you and your customers. It is important that you keep testing your web pages to be sure everything is going according to the plan and that you are offering the best online performance possible.
#5 Be updated and tuned in trends
Digital innovations show up everyday, so be informed about what is going on and do your best to keep up with it, attending your customers expectations and getting ahead of competition.
#6 Take in consideration which devices your public uses to reach you
Every device has its characteristics and certain advantages that have to be taken in consideration to provide a significant experience for the users. Mobiles allow people to connect with your brand any time they want, so you can invest in a clear, intuitive platform that facilitates the visualization of the products and the process of shopping on a smaller screen.
#7 Generate good quality content
Surrounded by a sea of online information, now customers are looking for relevant and accurate information of your product. Besides that, the material you provide has to keep their attention and lead them into action. Stimulate them to create a content as well, writing reviews and using social media to promote products and services they like.
Looking ahead, Cisco IBSG report estimates that by the year of 2020 more than 50 billion devices will be internet-connected – and it means an average number of 6.58 devices per person.
A impressive data like that cannot be ignored and ecommerces should lead this change to attend this increasing digital demand, using multichannel marketing tactics to hold attention and sell.
Sign-up for our newsletter.
Get the most relevant info on ecommerce.
//