Credit: Pxhere
Research online, purchase offline (ROPO) has been called the true pinnacle of multichannel commerce. But is it an opportunity or a threat to your ecommerce business?
Below I've dived deep into this crucial topic and explained not only why it's so important to your online store, but how you can incorporate it into your business.
Recommended reading: 5 Questions You Should be Asking to Push Your Ecommerce Sales Growth
What is ROPO?
Research online, purchase offline is a recent trend in your customers' buying behavior and it's one that you probably do yourself when online shopping.
Customers who ROPO will be:
Checking company websites to get an idea of what the product(s) they are interested in are like
Reading product reviews from fellow customers
Comparing products and weighing up the competition
Going in store to get the full retail experience.
Why are your customers using ROPO?
Some business owners have assumed that customer service or professional advice are behind the rise of ROPO.
However, this doesn't make the top 9 list of reasons that your customers chose to buy in store… 
Credit: emarketer.com
One thing that you must take into account when positioning your ecommerce business to take advantage of ROPO, is that your customers don't just do their online research at their desk, they also use their mobile devices.
Importance of localization
ROPO and the rise of multicommerce shopping habits means that localization is extremely important to your ecommerce business – through their mobile devices, your customers have constant access to the internet and any goods or services they want.
This means that if you want your company to offer the service your customers require, you must be visible wherever you are.
In order to do this there needs to be a convergence of your offline and online presence, which means that you have to incorporate the following tactics into your ecommerce business strategy:
Local SEO – When your customers need goods and services that can produce a local SERP, you can't miss the opportunity to feature in the results. This means that you need to have your Google maps listing sorted and have your business registered with the local chambers of commerce.
Local community building & community management – If you want Google and its friends to know that your company is part of the local business community then you need to tell them. There are many different ways you can do this, such as:

Sponsoring local events
Producing local content
Using local keywords
ROPO doesn't stop with local search, though; if you want your ecommerce business to make friends with your customers wallets you need to make an emotional connection with them…
Experiential marketing
Your customers can find a version of your product(s) from a million different providers. This means that your ecommerce business doesn't only need to answer the question of what they want, but why it should be you that they buy it from. How do you do that? By making your customers experience your products in a way that makes an emotional connection.
If that sounds like nonsense, it isn't; just check these stats to understand just how important experiential marketing is:
65% of companies say that experiential marketing relates directly to their sales
70% of your target audience become customers because of experiential marketing
77% of your competitors are using experiential marketing already
One of the reasons for the importance of experiential marketing is the prevalence of pop up ads – your customers don't like them and find them an impersonal turnoff. This means that in order for your ecommerce business to make a personal connection with your customers, you need to market experiences, not products.
Your multichannel funnel
In addition to thinking about why your customers should be convinced to buy from your ecommerce business, you also have to know and manage the various stages at which they might buy from you. In order to do this you have to get your multichannel funnel right.
Your customers engage with your company at various stages, points, angles, and timings as part of their buying journey. If you want to be the brand that they choose, you need to be there at every step of the journey.
In order to do this you need to make sure you use the various marketing assets you have at your disposal, including…
Video
Podcasts
Content marketing
Customer testimonials
Exit intent marketing
White papers
ROPO and the development of multichannel selling means that your customers go on a complex buying journey. If you want your business to succeed you want to make it as simple as possible for them to find your products at the end of their journey.
ROPO and the rise of multichannel commerce
ROPO has led to changes in the way that your customers want to buy from you and a rise in multichannel commerce. This means that an ecommerce business no longer covers just an online store, it also includes:
Comparison shopping website – you've seen them, you've used them — these are comparison engines that are designed to show your customers where they can find the item they want for the lowest cost. By including the products for your ecommerce business on them, your company increases its chances of being the option your customers select
Marketplace selling – Amazon, eBay, PriceMinister, Newegg, Rakuten, Etsy, Wish, etc… all of these marketplaces offer your customers the chance to buy goods from them; 44% of people start their shopping journey on Amazon, so make it an its peers part of your ecommerce business, not a competitor to it
Social commerce – Instagram, Facebook, Twitter, and Pinterest all now offer users the ability to buy through their social channels, meaning they don't need to visit your website to become customers
It's not only a smart move for your business to incorporate a multichannel approach, it's essential if you want to give your customers the service they want. Multichannel store builders enable ecommerce businesses to sell in store, in person, and online. Incorporating this multichannel approach into your offering means you can ensure your company can give your customers what they want, when they want it, and how they want it.
Take advantage of all the latest technology and sell your products on as many channels as possible — don't just focus on your website. Think about how crafts fairs, Instagram, Pinterest, Etsy — all these different sales channels — can help you diversify and grow your business. Don't be afraid of getting out there. As Nike would say — just do it!
Summing up
ROPO means a lot of things to your ecommerce company. However, the most important thing is that you must have a multichannel approach to the way that you do business. If you don't, then you make it more difficult for your customers to do business with you… and easier for them to buy from your competitors.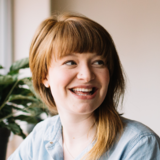 Victoria Greene is a branding consultant and freelance writer. On her blog, VictoriaEcommerce, you'll find a range of resources that will help both new business owners and established ecommerce brands.