So, you are looking forward to opening an online store but are confused with all ecommerce solutions available to retailers. Today, you can find a wide range of ecommerce platforms in the market; one is better than another.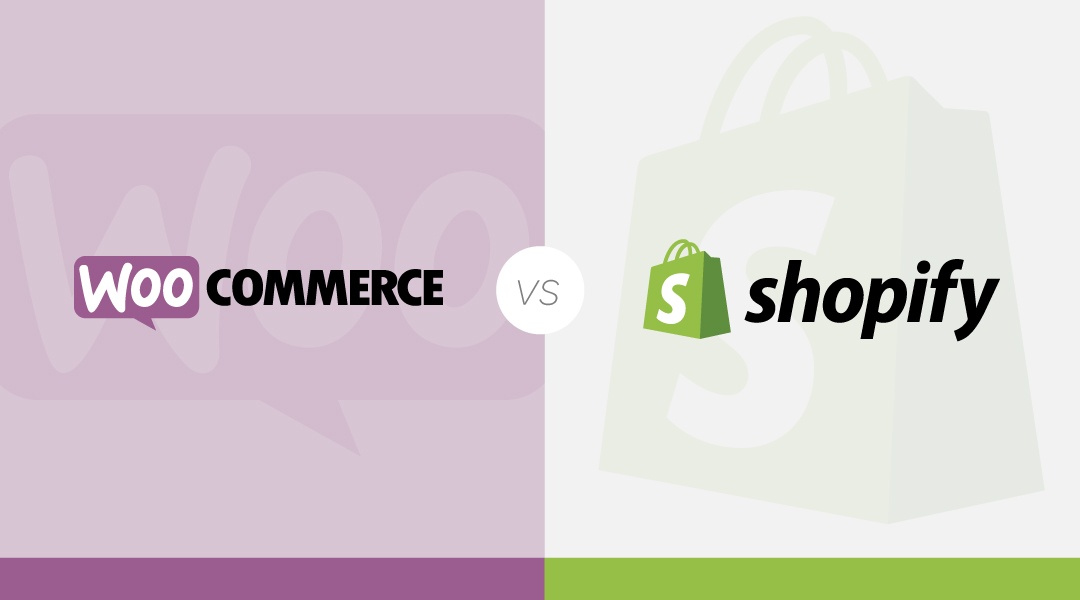 But, you need to carefully pick the one that meets your initial needs while giving you the required accessibility to develop. Remember, choosing the best ecommerce platform will define the success of your business.
In this post, we are going to compare two of the most popular eCommerce platforms preferred by most users today: WooCommerce & Shopify. Both platforms come up with advanced functionality and power-packed features. They offer some significant advantages to startups who are wondering how to launch a successful online store without any help from programmers.
So, how can you choose the best one? Before you pick any platform, first you need to understand which one is going to meet your specific needs better.
With our comprehensive WooCommerce vs Shopify comparison, you will most certainly be able to make the right decision. Check it out:
WooCommerce
With more than 3 million active installs online, WooCommerce has become a widely-preferred choice for most retailers today. It is a free open-source software that enables you to develop an advanced eCommerce website without having to know high-level coding skills.
WooCommerce is not a full-scale content management system but a plugin that adds eCommerce functionality to your WordPress website and that can be customized to match your needs.
With WooCommerce, you can add an unlimited number of products, sell them, and receive payments via several payment gateways. With amazing features and high-end functionalities, it is also an ideal solution for those who want to start selling extensive products using their existing WordPress website or blog.
Shopify
Shopify is a fully-hosted eCommerce CMS that provides an instant platform to develop a highly-functional online store. Basically, it is a subscription-based eCommerce solution that comes with a comprehensive user-interface, allowing you to add a large number of products and sell them.
In order to get started, simply visit Shopify website, sign up by giving your email address and select one of the available plans. Once you've chosen any plan, you get access to Shopify hosting and software set up. Since Shopify subscription comes with a dedicated hosting, you don't need to choose a hosting provider and install the software on your own. Moreover, it offers several inbuilt features with 1400 free and premium apps which further provides you with an ability to add new functionalities to your e-store.
WooCommerce vs Shopify: An In-Depth Comparison
WooCommerce & Shopify are widely recommended by developers due to their immense popularity, easiness and high functionality. But, what will be the right option for your business?
In order to make your decision more straightforward, we've analyzed every essential aspect of these two platforms including their features, ease-of-use, pricing, support, pros and cons. In this WooCommerce vs Shopify battle, we will also announce a clear winner for the online retailers:
Ease of Use
It is easy to set up WooCommerce; you only need to consider few steps before you start implementing this plugin. Several hosting providers offer a 1-click installation facility which helps you install domain and WordPress with ease. If you are well aware of WordPress website management, then you don't need to be worried about WooCommerce installation. Basically, you are required to perform the following activities beforehand:
Purchasing a domain name
Signing up for a hosting account
Installing WordPress
Choosing and installing a WordPress theme
WooCommerce works flawlessly with all kind of themes available for WordPress; you can choose any theme and convert it to a fully-functional online store. WooCommerce can also be easily integrated with Google Analytics using a plugin.
It is also quite easy to set up Shopify. Since it is a subscription-based eCommerce platform, all you need to do is go to the website, click on the signup button, follow necessary setup steps and you're done. Shopify will also give helpful tips that will assist you to choose the best design/structure while asking you about the purpose/nature of your upcoming e-store. Once you have set up an initial wizard, you get access to the main dashboard where you can develop your eCommerce website and add new products. Besides, you won't need any technical skills to get started.
Design Options
Since WooCommerce can be installed with any WordPress theme, providing you with a wide range of options to choose from. With WooCommerce, you get more variety which is not just limited to the template design but involves site features as well. WooCommerce allows you to virtually choose any product variations, providing an infinite range of possibilities which is somehow unobtainable with Shopify. If the design of the online store itself is important to you, choose the WordPress theme which is specially designed for WooCommerce. Moreover, you can visit ThemeForest where you can find a wide range of WooCommerce-compatible themes.
Source: Emigo WooCommerce theme by Nootheme.com
Shopify also comes with an impressive range of free & premium themes that can convert your eCommerce dream into reality. But, it doesn't offer more than three default product attributes i.e. size, material, and color. Every product on the website is determined by these three characteristics only. Though you can add more options for each of these attributes but you can't create new ones. Shopify also provides more than 54 different templates; each one has unique variations. Unfortunately, the premium themes start from $180. But what you receive in exchange is a fashionably sleek and clean website.
Source: Dribbble
SEO
WooCommerce offers you more SEO-specific features because it's installed on WordPress. It's relatively easy to update the content and meta information to assure that pages have a great chance of ranking for particular keywords. WordPress is the highly recommended platform for blogging, which provides a significant advantage for search engine optimization (SEO). With Yoast SEO plugin, you can make your site highly optimized for search engines.
If we take a closer look at the overall volume of SEO features available, Shopify may come second. There are several ways that WooCommerce proves to beat Shopify in the SEO game. However, Shopify handles basic SEO practices such as site copy and meta information with ease. Shopify also claims to use natural linking structure and cleanest code; allowing a smooth user experience and improved visibility in search engine rankings.
Price
WooCommerce is an open source software plugin which is available for free; making it a money-saving alternative. Being a retailer, you only need to invest in purchasing the domain name and hosting. Additionally, you can go with the premium theme, SSL certificate, and other plugins for extended functionalities. With WooCommerce, you get PayPal implementation and credit card payment option for free. You can also implement other local payments methods and "payment gateway" extensions which are available at an affordable price range. Nevertheless, basic WooCommerce websites are usually cheaper than Shopify sites.
Shopify also offers a complete eCommerce solution with different pricing packages. The basic plan starts at $29 per month. Advanced Shopify package is available at $299 per month. With Shopify, you get SSL certificate and top-level domain for free. Credit card processing is best accomplished via Shopify Payment but it is only available in the UK, USA, UK, Australia, and Canada means if your business is located elsewhere, you will need to rely on a third-party service or payment gateway. Therefore, if you are using an external payment method, you need to pay an additional fee.
Support
WooCommerce is a WordPress plugin which is available for free, so you don't get official support unless you buy a WooTheme. Despite, WooCommerce team also allows every user to create a free user account and get reliable support at their official website. Moreover, several WooCommerce forums and step-by-steps technical guides are easily accessible on the web. Hence, WooCommerce is an excellent option for people who don't prefer speaking with a customer service representative but would perform their own research online.
You get dedicated personal support via phone, email and live chat in each Shopify plan. So, you can contact their experts 24*7 if you so wish. Besides, you also get access to a comprehensive knowledge base which includes some of the frequently asked questions, common problems, and their solutions.
Conclusion
Nevertheless, WooCommerce is the best DIY eCommerce solution for startups, aspiring eCommerce brands, small and mid-sized companies. It is also a recommended option for those who admire WordPress and its high functionality. On the other hand, if you prefer hands-off approach and don't mind paying a fee to have an online store launched as a result of it, you should choose Shopify.
Consequently, Shopify is reliable, great and helpful under the right circumstances, but it is limited. WooCommerce may involve more efforts and elbow grease, but it's a better option for serious eCommerce brands. Hope our comprehensive WooCommerce vs Shopify comparison will help you make the right decision.
In order to make your upcoming e-store highly functional and profitable, you need to pick the platform which best fits your specific needs, budget, business type, and the scale of your sales. We hope that this guide will help you make the right choice. If you have any doubts, please leave a comment, we will be happy to happy you.