Being one of the biggest ecommerce platforms, Magento has conquered companies such as: Samsung, Nestle Nespresso, the Coca-Cola Company, Olympus, Men's Health, Vizio, Nike and other millions of small and mid sized ecommerce companies around the globe.
Only ten years old, Magento gives us enough reasons to develop a Gateway for it. An open-source platform built specifically for shopping, Magento has all the tools, plugins, extensions, support and structure an e-commerce might need to have a successful business.
So, let me introduce you to the EBANX Payment Gateway for Magento, made for you to reach Latin America. Developed to suit your needs, the EBANX Magento Gateway allows you to accept the most popular local payment methods in Latin America and receive your money anywhere in the world.
The gateway comes with high converting features to empower your sales, such as: a simple 5 steps integration, more than 50 local payment methods for Brazil, Chile, Colombia, Peru and Mexico, the possibility to sell to over 25 million EBANX Wallet users in one-click, and also one-click purchases, which allows any client to skip checkout process. All that with a customer support prepared to answer to any of your customer's needs.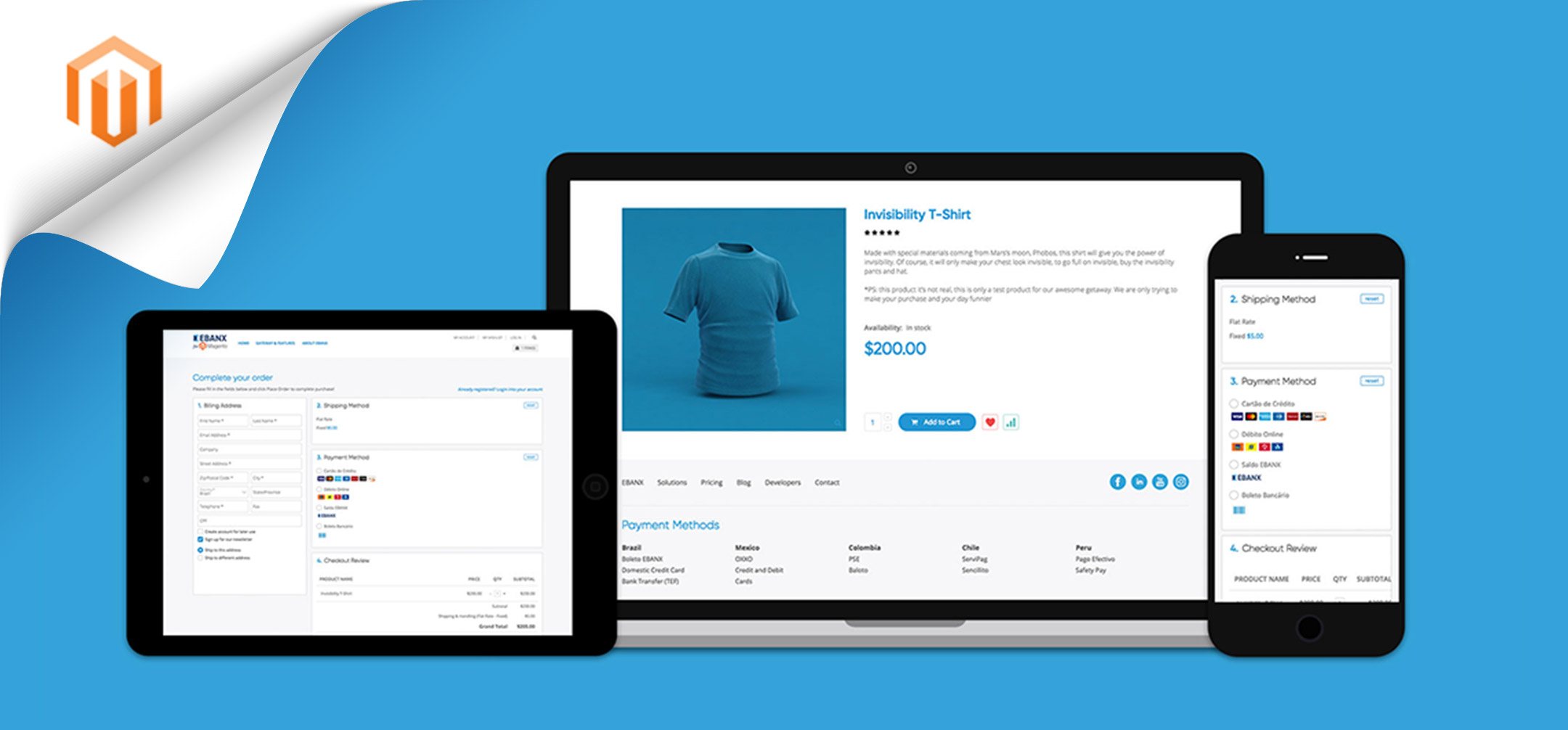 When it comes to security, we also take care of everything. The customer's sensitive data doesn't go to your server but is saved in EBANX environment using both PCI standards and anti-fraud systems to avoid any fraudulent transaction.
If that ain't enough to make you close the deal, with the EBANX Magento Gateway you can also:
Personalize which payment methods are displayed at checkout
Set a maximum number of installments
Select an expiration date for cash payments
Allow customers to save their credit card information
Set individual interest rates for each credit card installment plan
Create orders & request refunds directly in your Magento Admin
Accept Local Currencies, USD and EUR based on your Magento Currency Options, to be processed by EBANX
Up for a trying out? Check out how the EBANX Payment Gateway for Magento will perform on your e-commerce by accessing our demo store. Our demonstration page allows you to explore all the Gateway features, such as create payments just as a customer, without having the need to install it. You can download the setup guide as well.
Have any questions left? Schedule a call with one of our Business Experts.