Back in the days, traveling was a distant dream for most people around Brazil, Colombia, Argentina, and Mexico. What was once just a privilege is slowly taking over the habits of the overall population of Latin American countries. Nowadays, it's seen as a possibility.
The outbound international travel bookings departing from Latin America and the Caribbean this year are 9.3% higher than in 2017. According to this research from ForwardKeys, the market is ready to expand.
Smaller economies are able to feel a more dynamic growth when it comes to tourism, but some of the main players in Latin America are Argentina, Brazil and Mexico.
You should also read: Regional Connections: the Latin America tourist landscape in Brazil 
As an example, we can mention some bookings to go to Russia this year, because of the World Cup.
In Mexico, outbound travel traveling to the other side of the planet skyrocketed +373.5% compared to the same period one year ago – Mexicans are really looking forward to the soccer games in June 2018.
Latin American Travel Market & Potential
When it comes to Latin American tourism market, numbers are growing nonstop. In 2016, nearly 36% of all visitors in the United States of America came from LATAM. This means more tourists from the region than any other region of the whole world.
They also generated a profit of 60 billion dollars in 2016 for the United States alone. This is almost ¼ of the total amount spent by international travelers in the country.
Argentina is the leading outbound travel country in Latin America. The country had more than 16.6% growth recently, mainly focused in other Latin American countries.
The second biggest growth-rate comes from Brazil, with 14.2% increase in outbound travel. Brazilians are going to United States and Canada – especially after an improved system for visas was implemented.
In case you want to get to know a bit better about the brazilian traveler in the US, take a look at this article later.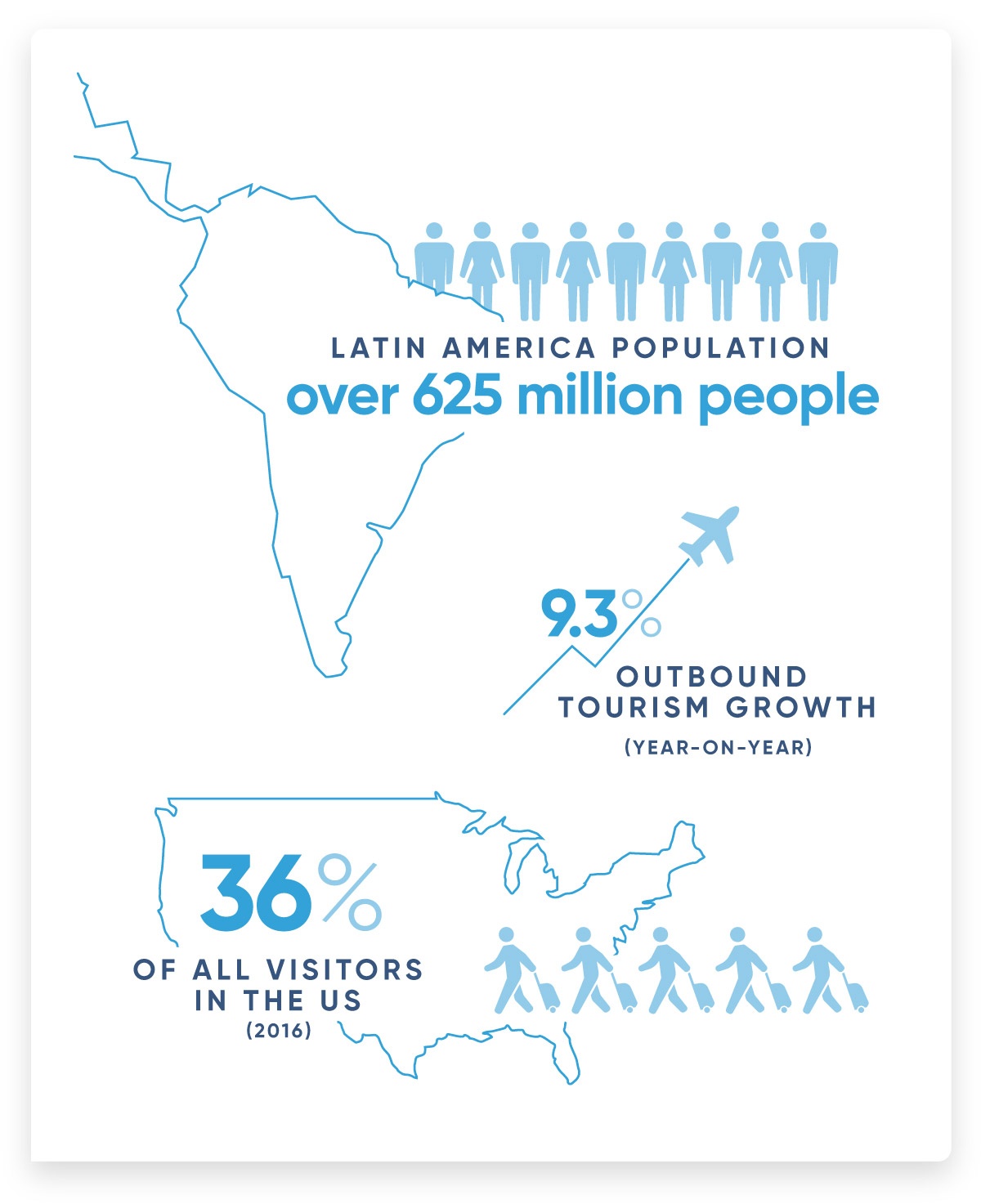 According to a Mintel report, economic growth and stability are playing big roles when it comes to the outbound travel market. Even though many Latin American countries are experiencing a recession, the idea of traveling is never out of the table and the market is only expected to grow.
Why?
Simply because the market is extremely broad and there are endless opportunities. 
Why the Tourism Market is Booming in Latin America
Internet and Mobile Growth
The penetration of smartphones and internet connection is improving all over Latin America. This is already increasing the chances of online purchases and more opportunities opening up every day.
Latin Americans are tech savvy and love to be connected. Consumers are becoming more confident about online security processes.
The result? Better sales every day.
Rise of the Middle Class
The rise of the middle class is one of the most important achievements when it comes to the economic expansion in Latin America. The reduction of poverty made people see further and have other perspectives over their own lives.
Economic growth plays a big role when we're talking about the growth of outbound travel market. This means that the rise of the middle class slowly opens up opportunities for people who could barely get by just a few years ago.
It's true that most Latin American countries experienced an economic slowdown over the past few years. Still, tourists keep searching for outbound destinations that are worth the trip – inside and outside of LATAM.
Let's get a quick example from one of the major touristic cities around Latin America. Just a few years ago it wasn't that easy to see Brazilian tourists in Rio de Janeiro, Brazil. The majority was coming from the United States or Europe.
This shifted completely over the past 6 to 8 years, thanks to the rapid rise of the middle class. Since 2003, more than 30 million Brazilians have risen out of poverty – completely shifting their behaviour as well. This is happening all over Latin America.
Lodging Alternatives
Even though Airbnb and other short-term rentals are significantly more popular among Europeans and North Americans, little by little the Latin Americans are hopping into this trend as well.
You might be interested in our article How Airbnb Added BRL 25 billion to Brazil's GDP
Short-term rentals are supposed to double their market size in Latin America until 2020, making travel more affordable for them. 
The lack of trust on online services is slowly decreasing and people are seeing the benefits of renting short-term accomodations after friends and people they trust experience this first.
Local payment methods
Another reason that is making the collaborative economies more trustworthy to Latin Americans? The fact that many websites, such as Airbnb, are investing in better solutions for their users.
And local payment methods based on the consumer behaviour is one of them.
"Since only 19% of Brazilians own an internationally accepted credit card, Airbnb, in partnership with Digital River World Payments and EBANX, started accepting payments via local credit, with installments or not, and Brazil's favorite cash payment method, boleto bancário, a voucher with a barcode that can be paid in banks and lotteries in Brazil." Read the whole article
When startups and digital companies start accepting payment methods that people feel more comfortable with, they're opening up a new opportunity and offering alternatives so people can trust them.
It's not always that easy
Even though Latin America outbound tourism is booming, there are some details that you should always keep in mind. Due to a big recession, major Latin American currencies are losing power and the dollar fluctuation is always a concern. For that reason, the Latin American travel market is not always fully stable, having always its highs and lows.
The situation causes complications for all businesses in the region. Still, tourism is a long-term plan that Latin Americans are always looking forward to. This makes the tourism market something that is ever-growing on its own way.
Latin America Travel Niches
Luxury market
True, the majority of Latin Americans are not frequent travelers. When they travel, however, they want to experience the best they can. Nowadays, the luxury travel market is getting more and more accessible and they want to treat themselves to the best they can afford. This can also mean that they're on the lookout for affordable luxury, focusing on unique experiences instead of 5-star hotels.
For many Latin American tourists, to travel is to experience something unique. Something they will always remember. That's why they're very picky about that.
50+ tourists
The ageing population is a niche to keep an eye out all over the world – and it wouldn't be different when we talk about Latin American travelers. Thanks to better healthcare systems and diseases prevention, the life expectancy has risen to around 72 years. This, together with the boom of the middle class, makes elderly people wish to go abroad. They're retired, they have a lot of free time and this is a huge market in expansion.
Travelers with more than 50 years old are popping up all over the world. Especially in Latin America, they're even outpacing other groups.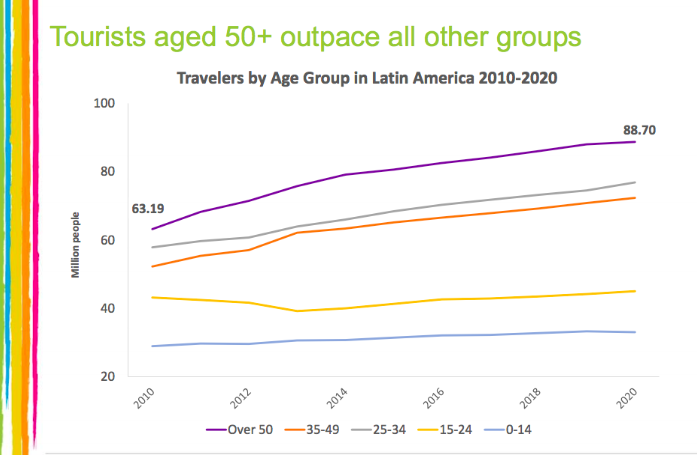 Source: Euromonitor International
If you compare the year of 2010 to the predictions of 2020, there will be a 40% growth of tourists over 50 years old, making them the most dynamic growth group.
In numbers, this means more than 26 million Latin American tourists traveling all over the world.
The ageing population is expected to be responsible for 28% of all the Latin American tourists by 2020.
To work with this niche, you also need to think what elderly people would like to experience. Some destinations might not be that comfortable for them. That's why the market is creating strategies to focus on "age appropriate" destinations for this kind of traveler.
They also have more free time, being able to travel off-season and make longer trips. When it comes to health, travel insurance companies are offering specific services for elderly people, making sure the trip goes smooth.
According to the niche you decide to focus, you need to work your way around their limitations while making them feel good about themselves.
Self-employed workers and a new mindset
Another important niche to keep in mind when it comes to Latin America Travelers is the rising self-employed niche. Due to economic reasons and a better entrepreneur mindset, this group decided to invest in their own careers. They want something different.
This group increased by 10% between 2010 to 2016, expanding it to more than 7.4 million workers. They're independent, well-connected, and value life-experiences much more than the traditional tourists.  
These travelers are interested in meaningful experiences. They're willing to make their own informed decisions, reevaluating their preferences. The trend of the personalized offerings starts out with the self-employed workers, focusing on a balance between life and work.
At the same time, they're much more prone to spend more money in meaningful life-experiences that might be part of a trip.
Female Empowerment
In Latin America, more than 30% of households are led by females. In some cases, like Brazil, Chile and Colombia, more than 50% of women are employed. Almost everywhere in Latin America women also have high education.
Over the years, female empowerment is growing exponentially together with their economic power. This gets even more strong as the internet grows and people start sharing their experiences as female solo travelers.
This encourages other women to do the same while reporting their own experiences. It's getting common that women travel alone. They like to feel free to decide their own itinerary and experience the world on their own. They want to gain a feeling of confidence and empower themselves.
According to Euromonitor, one out of eight women are willing to travel solo, but their largest concern is safety. That's why companies are creating businesses around that. Some companies are working hard to make this experience more enjoyable and less scary for many women around the world.
How to attract Latin America Travelers?
Latin American travelers are seeking for something meaningful that they can remember forever. They're not always constant travelers and that is why they want experiences for life – so you should focus on that too.
Unique experiences
Nowadays, Latin American travelers need more than palm trees and relaxing environments to travel somewhere. Even though many people are just starting out, they want meaningful experiences that they can remember in the future. Traveling for Latin Americans is something very special.
This asks for experiences that will make the whole experience unique. LatAm travelers are searching for more than the basics you usually offer to people who travel often.
Niche Personalization
As much as any other tourists, the more you can personalize something for a group of people, the better. From the moment they book the trip until the last minute of it, travel experiences can be personalized according to the niche you want to focus on.
The costs might rise, but people are willing to pay more to feel like something was exclusively created for them. Personalization is a big step when you want to invest in the Latin America Market and many others.
Final Thoughts
Let's face it. Latin America might not be as stable as the United States or Europe. Still, many Latin Americans reached a point where they can invest in life-changing experiences. To have a successful business in Latin America, you must build and sustain a relationship with your customer. You must offer what's necessary for them to overcome fears and concerns. As a new group of travelers, they value personalization and trust.
The Latin America Outbound tourism market is a powerful market full of opportunities. It's still booming and full of opportunities. This is the perfect opportunity to start right away.
What are you going to do about it?